Supporting ASC Learners
At Red Balloon of the Air, we offer a unique approach to education which can be especially effective for learners with Autistic Spectrum Condition (ASC). Our staff are knowledgeable and experienced in working with autistic learners; in fact, 60% of our current intake have a diagnosis of ASC or Asperger's Syndrome*.
Autistic Spectrum Condition
ASC is a neurodevelopmental condition which occurs on a spectrum. This means that it is experienced in many different ways. As the saying goes, if you've met one autistic person, you've met one autistic person.
That said, there are certain aspects of ASC which are experienced by the majority of those with the diagnosis. These include challenges with social and communication skills, as well as sensory sensitivities, and an increased need for structure.
Neurodivergent minds see and experience the world differently, and this can result in very challenging situations. This can pose a particular problem in mainstream education if young people don't have the support they need to overcome these challenges.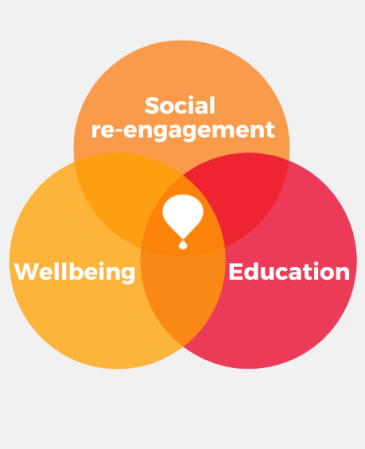 Our three components
Red Balloon of the Air has a three-pronged approach, focusing on education, social re-engagement and wellbeing. In this way, learners have a holistic educational experience, which is individualised to their unique needs. This includes their educational ambitions, social skills and confidence, and most importantly, their emotional wellbeing.
We adapt our approach for each learner at each point of their journey with us from admissions to transitions.
Why our approach works
Our main focus is always on the young person's wellbeing; if that is not being looked after, then they aren't going to be able to engage fully in learning.
Life can be very overwhelming for learners with ASC. Often things which are seen as very simple for neurotypical learners might be significant challenges.
When learners with ASC are overwhelmed, it can be extremely difficult for them to think clearly, and so we believe that it's more valuable to have a learner engage with even one small activity in a lesson, rather than trying to push them into doing what is seen as a 'normal' academic load.
At Red Balloon of the Air, we are always very careful to work at the learner's own pace, and never try to rush them into something they're not ready for. We believe in the idea of little and often, and that every achievement, from attending a lesson, a social engagement at our centre or completing a task online, is celebrated.
Our ultimate goal is to provide hope and a way forward, supporting young people through all their challenges and celebrating each success.
Admission
When a learner is first considering RBAir, our admissions team meets with the young person and their family to determine whether the provision will work for them. The young person is able to express their needs and the team will work with them to accommodate what they can.
Our team aims to take on board the learner's preferences and requirements throughout their time and allow the learner a sense of control over their own educational experience. This can be particularly important for learners with ASC, as their past experiences are often of being forced to fit into an educational system designed for neurotypical people.
Our Provision
Online sessions
Our blend of online and in-person provision allows autistic learners to have more control over what their learning looks like. At home, they can use a variety of equipment and aids to ease sensory-related stress (such as weighted blankets, fidget toys, and their own choices of clothing), they can stim without concern of distracting other learners and can take regular breaks between and within sessions.
By removing many of the day-to-day stresses that autistic people often experience, young people are able to engage fully with the learning process. Learners can often start off with individual lessons, and then gradually move towards pairs or small groups as their confidence grows.
In-person sessions
When learners begin to feel ready to work with our In Centre and Face to Face teams, they are consulted on the frequency and length of sessions, as well as introduced slowly to other learners and staff. The environment is adapted to the needs of each learner and groups are carefully and thoughtfully considered to reduce feelings of overwhelm and stress.
Wellbeing
Throughout this process, learners develop a trusted relationship with a link mentor and a therapist, both of whom are able to offer individualised support along the way. Mentors and therapists are able to help the learners communicate any issues to the teachers and, in this way, learners are empowered to express their needs and ultimately get the assistance they need to achieve their goals.
Mentors work one to one with learners in their homes and, when they feel ready, in other spaces in their community. Our mentor team is dedicated and experienced in co-producing creative ways to meet the needs of our learners. The mentor team works with the families to help our learners begin to re-engage with the world around them working on individualised goals and targets.
Support from all staff
All staff at RBAir are committed to unconditional positive regard. This means that our starting point is to fully accept and support all learners exactly as they are. We meet them wherever they are in their lives and work with them to create their own unique educational pathway. While this is key for all learners, it can be particularly helpful for autistic young people who may sometimes find themselves 'in trouble' for inadvertently breaking some unspoken social rules. Many autistic learners struggle with relating to others and interpreting social cues, and this can lead to them feeling misunderstood and as if they are the 'odd ones out'. As young people start to realise that they can rely on the people around them to always assume the best of them in any situation, they can start to feel a new sense of trust and freedom in the way they relate to those around them.
Negotiated curriculum
Many neurodivergent learners find it very challenging to focus when the work isn't interesting to them. It's not that they're not willing to work hard, but rather that their brains find it really challenging to engage with certain topics. They can also often have very strong personal interests. This is where RBAir can be really helpful as we offer a negotiated curriculum, which means that we are able to teach learners the skills they need to learn in an individualised way, to maximise engagement. By starting from a place of interest, it can then be much easier for learners to learn the necessary skills.
Transitions
Unlike other education providers, when our young people are beginning to look to move on from Red Balloon of the Air, we have a dedicated team working with them to help prepare them for what's next.
As with everything at Red Balloon of the Air, this is an individualised approach looking specifically at that learner's goals and ambitions. This could include support and advice with work experience or applications for further education such as arranging a tour of a college after sessions have finished for the day so that our ASC learners can take in the environment away from the sensory stimulation of the full cohort of learners. This enables each of our young people to feel prepared, equipped and comfortable to take their first steps away from our provision.