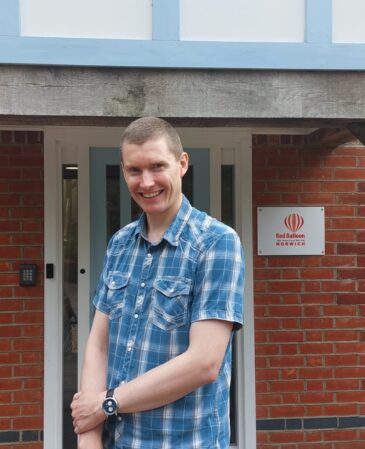 Head of Centre's welcome
Welcome to Red Balloon Norwich, where we aspire to ensure all young people who access our Learning Centre can re-connect with the education system through a range of character and career enriching opportunities which place wellbeing at their core.
One of the first things a young person needs when they join Red Balloon Norwich is to build their confidence and to address their barriers to learning
so they can thrive in their new education environment. The young people we support have often experienced difficulties accessing learning in mainstream education, but our highly experienced staff offer small class sizes, counselling interventions and coping strategies to help students recover.
We offer an onsite wellbeing listening service, delivered by a qualified counsellor – an invaluable facility for those learners who have been on waiting lists for CAMHS intervention. The centre is also introducing from this term a much needed outreach project to help students who are unable to access the centre straight away.
The timetable and curriculum offer a unique blend of wellbeing, vocational and academic interventions where students can choose subjects such as construction, arts award, health and social care, animal care and hair and beauty alongside their core subjects to develop a range of life management skills to prepare for adult life.
Mark Anderson
Head of Centre
About the Centre
RB-Norwich provides a safe and supportive learning environment for up to 40 young people from Norfolk and surrounding counties. Our Centre is open Monday to Friday from 9:00 to 15:30 during term time, and students attend full-time or start on a reduced time-table and building up to full time, depending on their needs and abilities.
Students can join RB-Norwich from age 11 to 16, with those already with us able to stay to the maximum age of 17 to complete their GCSEs. Though we have sixth-form aged students with us, we are not able to offer A-levels. The highest level of education we offer is Key Stage 4 (GCSEs and equivalent).
See more on Subjects and qualifications.
About Red Balloon
At Red Balloon we judge success and progress for our students against their unique goals. It's not about getting good grades, we want to see our students grow as individuals and develop the personal skills, social skills and confidence to make their way in the world.
All Red Balloon Centres are based on the three key elements of
to ensure our students get the support they need to thrive. Read more about our Values, ethos and practice.
Negotiated curriculum
All students are given the opportunity to negotiate their curriculum. This means that teachers use topics that students are passionate about – eg horse riding, manga comics, paintball or car racing – and creatively linked them to the curricular subjects to rekindle their interest in learning. Over the course of their time with us, students progress from 1:1 sessions to small group sessions. 50% of our programme is dedicated to well-being support and therapy and students are offered a range of therapeutic support via their mentors.
At the heart of our community is our big communal kitchen and dining room. Here, staff and students come together to eat, play games or just sit and chat.
See more on What students can expect or Our Values, Ethos and Practice.
Find out more about Red Balloon Norwich
Enrolling with us
Each referral is examined individually by our Head of Centre to decide if the young person would fit with the mix of students already enrolled. To enquire about a place and add your child's name to our waiting list, please contact us on 01603 622288 or admissions@rbnorwich.org.uk. For further information see Admissions.
If RB-Norwich is not suitable for you or your child, do take a look at our online provision Red Balloon of the Air.
Safeguarding at Red Balloon Norwich
Red Balloon – Norwich's lead for safeguarding and child protection:
Heather Ndaji
Abbey King
01603 622288
Designated Safeguarding Person –
RB-Norwich
Linda Clements
01603 622288
Red Balloon Educational Trust Lead for Safeguarding and Child Protection
Robert Watson
07877 857656