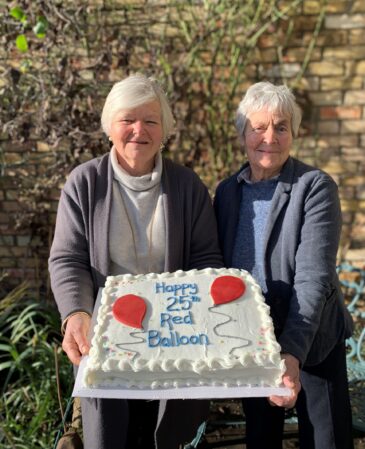 "It hardly seems possible that it has been 25 years since Red Balloon started around my kitchen table! And what an amazing journey we've all been on since.
It all began when I was working as an anti-bullying consultant and heard about students who had been so badly bullied that they stopped going to school. I explored this with lots of teachers and it became clear that this was affecting about 1 in 1,000 children. I was horrified."
(Image: Founders Carrie Herbert and Ruth Loshak celebrate the 25th Anniversary of Red Balloon's creation)
"Asking questions sometimes gets you noticed; it wasn't long before I was contacted by a family who desperately needed help for their daughter. This 13-year-old had been bullied so severely that she had attempted suicide. The school had unhelpfully asked her to leave. So I offered to provide her with education at my house. She arrived in late November and by the spring half-term she was thriving, and returned to mainstream education. We told our local education authority that we had opened a school for bullied children, and Red Balloon was born.
From humble beginnings in my Victorian townhouse, Red Balloon has grown to have Centres in four locations across the south east, as well as an online provision across 12 counties.
Today over 200 young people study with Red Balloon at any one time, and in the last 25 years we have helped over 1,000 get their lives back on track.
The essential foundations of our recovery programme: wellbeing, education and social re-engagement remain, but our practice is constantly developing so students can receive the very best care.
Looking forward, we will be extending our reach so even more marginalised children can re-engage with learning and life. The need is undeniable: all our Centres have waiting lists, and the pandemic has increased the number of young people facing difficulties. We have already begun this expansion by opening a second Centre in Cambridge, and further growth is planned in the near future.
Our students continue to progress to sixth form, college, apprenticeships, university and beyond. They have become the successful adults they could only dream of at the start of their journey with Red Balloon.
I want to thank you for your continued support in giving bullied and traumatised young people the bright futures they so deserve. We couldn't do it without you. Please join us in celebrating our 25th anniversary."
Carrie Herbert, MBE
Red Balloon Founder