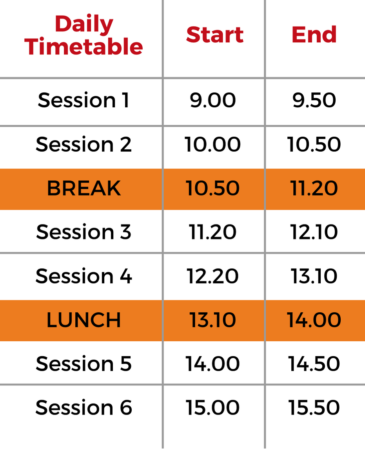 What is a day like for a student?
Each of our students has a laptop supplied by RBAir for the duration of their studies. They will have a timetable of sessions across the week which fall into the timeslots opposite, to make sure our students and staff have enough breaks between sessions to do their best. For online sessions our students simply log on ahead of the correct lesson and meet their teacher online. For face-to-face sessions, link professional (mentor) meetings, and student hub sessions, students will either travel to a Centre, or their link professional will visit the student at home.
Like all our Centres, RBAir has a negotiated curriculum which incorporates the interests and goals of the student to create an individual timetable of lessons that inspires successful learning. Mental health and personal well-being is just as important as subject learning, so the timetabled therapy sessions help to support our students' emotional healing and build up their resilience throughout their time with us. Our online students also have a dedicated link professional (a link mentor) who visits or meets with them regularly and works to quickly develop and sustain a trusted relationship with the young person during their time at RBAir. The mentor can provide personal support and help the student to make the most of their time with us, and is their first port of call when something seems tough.
Online sessions
We recommend that our students (and staff!) boot up their laptop at least 10 minutes before the first session of the day, in case there are any updates, or things are a bit slow. That means that when the session is scheduled to start everyone is ready to go and not delayed by technical issues. The teacher leading the lesson will start with online chats with the student or group to make sure everyone's there and to check how everyone is doing. Our admin team will call home for any student more than 5 minutes late, in case there's an issue. How the lesson goes then depends on the subject and the students!
Sometimes communication in lessons takes place via typed chat, or with people talking over voice chat, and sometimes a combination of both. The lesson itself could be using slides as a combined smart-board and workbook, watching a video and then taking a quiz, working in a group to create a guidebook, writing a story or an essay, researching online, or even paying a visit to our virtual world. The opportunities are endless! Whatever the lesson, it's always a small number of students (1-1 to start with, building to four or five in a group), and the teacher is present throughout, leading the lesson and providing extra help to individuals whenever it's needed – just like they would in a 'normal' classroom.
Student hubs and community activities
There's nothing like face-to-face contact, so even though our students have lessons online we make sure there are ample opportunities to meet people in the real world too. Our link professionals (mentors) visit students in their homes and work to increase their confidence and interaction with others; both with members of the public that they may meet day to day, such as staff in shops or cafes, but also with our other students, in both paired and group activities.
We have student hubs in areas where we have a cluster of students – these student hubs are like mini versions of our traditional Centres but run by mentors. At these Centres our students can attend to complete activities, lessons or PSHEE alongside others; and sometimes the focus is to socialise with fellow students with the support of the mentors, keeping things fun and stress-free.
Clubs and outings
It's the little extras that can make life fun and just like other schools we have clubs and trips too. Some clubs we currently have running at RBAir are Art club, Maths club, Code club and a Book club. Our clubs usually run weekly after the end of the last session taught session of the day, just like an after-school club. We will send out equipment or books to interested students via our link mentors, so that they have everything they need to take pare.
Our trips can come in many forms and involve varying student numbers from pairs to small groups. The confidence to take part in trips can build up gradually as students dog-walk with their mentor, or share a visit to the supermarket together. From an afternoon trip to play tennis, a cooking workshop, a museum visit, a forest skills day, to a residential sailing trip, there's a huge range of possible events, depending on what our students would like to do!