Ryan is a student with Red Balloon of the Air, studying in Danbury. He has a passion for collecting famous people's autographs, and in his article below he shares some of his experiences and gives advice to anyone interested in taking up autograph collecting as a hobby.
Thank you for sharing your knowledge with us, Ryan!
The history of autograph collecting
Human signatures have been around since the 1300s, but autograph collecting is a relatively new pastime and has been around for a couple of hundred years. The oldest ever signed piece was found to be by an unknown person on a Sumerican Clay Tablet. The oldest ever signature by a known person, is that of El Cid, an old Spanish war lord (see picture below). We should really sympathise with old Victorian celebrities. Instead of signing a piece of paper, people would send letters asking for a lock of their hair!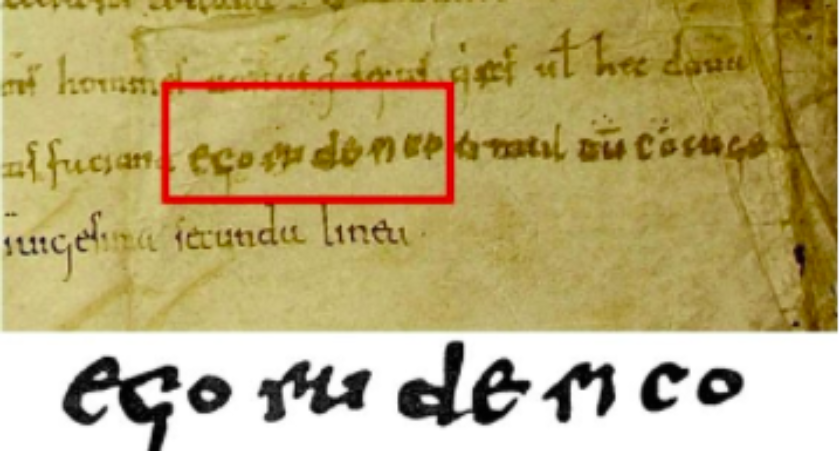 What does autograph collecting entail?
The first lesson is always be respectful to the person you're writing to. If you're not, your request will not be answered. Also be patient as it will take time to receive a reply.
To get an autograph through the mail, you need three things:
1. A letter
2. A SAE (stamped, addressed envelope )
3. An item for the celebrity to sign (photo, funko, props, books etc)
How to obtain celebrity addresses
There are lots of websites that can help you with finding addresses. The best that I have found are Fanmail.biz and Startiger. With Startiger you do have to pay, but it's not too much and Fanmail.biz is full of advertising. Please be careful with Fanmail.biz and refrain form clicking on any blue links. Due to it being a free resource there are people with intentions to exploit others and possibly give suspicious links with viruses.
Once you have the address of the celebrity that you have chosen, copy it onto an envelope, put a stamp on that and then pop it into a postbox. Please be aware, you can wait up to 10 years – just joking! The average wait is a couple months, but on some rare occasions, a much longer wait has happened.
Some of my most favourite autographs
In 2019 I was looking for a hobby to occupy my time. I came across a hobby which I could do; it was called Autograph Hunting. Over the past two years, I have collected over 120 different autographs.
My first ever success was Fiona Shaw who plays Petunia Dursley. After obtaining her autograph, I've been hooked on collecting ever since. I now have the signatures of celebrities from Harry Potter to Disney and Disney to Cartoon Classics.
Some of my most favourite autographs have to be the ones that I have tried to obtain for quite a while.
Daniel Radcliffe
This has to be one of my most favourite successes. Daniel Radcliffe is known for not being easy to obtain an autograph through the mail from. Unless you send a letter to him while he is in a show, you generally don't get his autograph. So in January of 2020 I sent a letter to his show called 'Endgame' and a few weeks later I received it back signed, which was very exciting.
Julie Walters
This has to be one of the most exciting returns of my collection. Now all requests that are sent to her agency never get answered, but I saw people were getting successes via her home address, so I sent my request there. Two weeks later I received my two photos back, which she kindly signed. This has to be one of my most favourite successes. She also responded to some questions that I asked her (see below).
Mary Costa
Mary Costa is the original voice of sleeping beauty in the animated film from 1959. I like to collect the original Disney voice actors from the old era of films and she was one of the first Disney autographs in my collection. So in 2019 I sent a letter to her in the USA, and three weeks later I received my reply. She has not only signed my two pictures, she also included three more of her own. This is one of my most favourites and she is one of only a few celebrities who did this.
Dame Vera Lynn
Sadly Dame Vera Lynn passed away in June 2020, but in September of 2019 I sent a letter and a small postcard for her to sign for me. In December of 2019, I received my response, she had signed my postcard and sent me a letter which she also signed. This is a very special success to me.
Paul Barber
This is one of my most favourite successes, I wrote to him in August 2020, and in December of the same year, I received a reply. Not only did he sign my pictures, he also included five more of his own. A very kind man.
My autograph wishlist
I would like to get signatures from Maggie Smith, Michael Gambon, Rupert Grint and Emma Watson because of the roles they played in Harry Potter. I would also like to get an autograph from Frank Welker who is the original voice of Scooby Doo and hundreds of other characters from Disney to Warner Bros. He is quite the star for cartoon voice overs. Due to him only signing in the USA, I believe his will be a very hard one to get.
In conclusion
I hope this article has helped if you are interested in trying to start the great hobby of autograph collecting. Autograph collecting is a good hobby that will stimulate the brain, and help you improve your English and writing skills.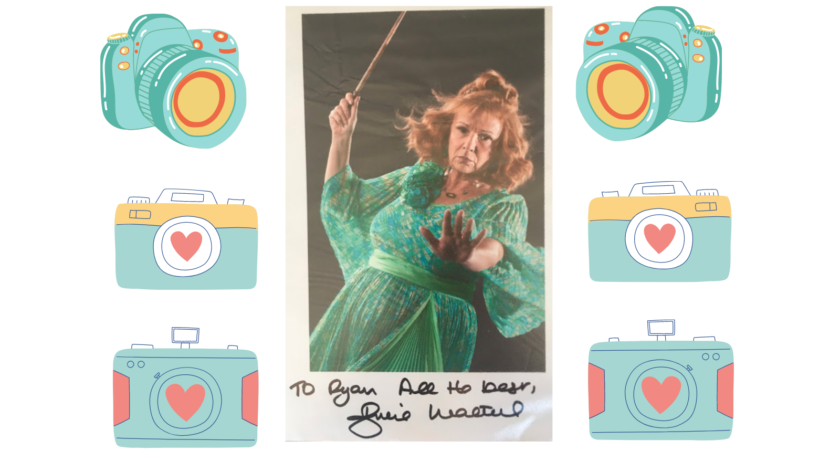 Dame Julie's answers
Q1 What inspired you to become an actress?
"Being the class clown, entertaining my family. I found it was something I could do."
Q2 What was one of your most favourite roles and why?
"My favourite role was Kate in the stage play 'All my Sons' By Arthur Miller and Rita in 'Educating Rita'."
Q3 Who has been your most favourite person you have worked alongside in your career?
"Sally Hawkins in 'Paddington' and gary Lewis in 'Billy Elliot'"
Q4 What was the funniest moment in your acting career?
"Saying one of Victoria Woods brilliant speeches in a play called 'Good Fun'. The audience was in hysterics! And eventually so were the actors!"
Q5 What is your most favourite pastime?
"Reading, box sets and walking in the countryside."
Q6 If you could give one piece of advice to the students of RBAir what would it be?
"Be true to yourself and be kind to yourself. Don't be critical of yourself. Be understanding."
Q7 Who is your most favourite Harry Potter characters and why?
"Sybill Trelawney played by Emma Thompson."
Q8 What is your most favourite piece of Harry Potter memorabilia?
"I don't have any except for a photo of the Weasley Family! Should have kept my wand."