Chinese New Year
This week our focus has been on celebrating Chinese New Year and learning about customs and traditions surrounding this celebration.
Our learners have made Chinese lanterns and created a fantastic moving Chinese Dragon – which symbolises good luck, strength and health.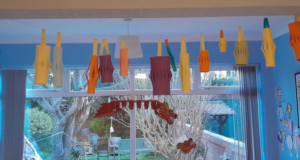 Our learners studied the history of Chinese food and all made their own spring rolls – which were really impressive! Our learners chopped up all their own vegetables and made filo pastry to wrap around the spring roll filling. The consistency and quality of the spring rolls were excellent!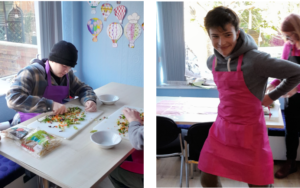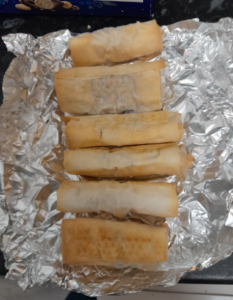 Beach Clean Trip
We had a very eventful beach trip where shortly after setting off to the beach with sunny skies – there was suddenly a huge downpour and then a hailstorm! All the staff and learners on the trip returned to the Centre very soggy! However, they did manage to pick up some litter on the beach and also collected some items to create sustainable jewellery. Below are some examples of their work:
Serious Soldering
Our scientists have been very busy learning how to solder using a soldering iron in the lab. They have been creating their own battery-operated cars and modes of transport. It was really exciting to see their creations moving around the Centre.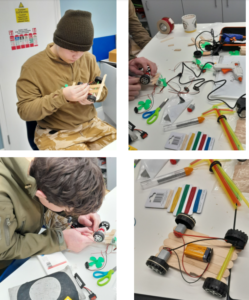 Lantern Making Workshop
The Centre is taking part in this national initiative between 6th January until 20th February. We will record any birds visiting our garden and upload the data for a national survey.
So far we have seen some pigeons, seagulls, blue tits and potentially an owl!
We have created bird feeders and hung them up on the trees.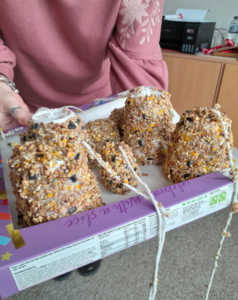 Amazing Cakes
We started the first day back at the Centre with baking cupcakes and more recently our learners created flapjack in their scientific baking lesson. The results were fabulous!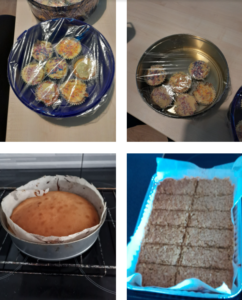 Generous Donations
We had 2 large financial donations to the Centre over Christmas which will be used to purchase items requested by the learners but also which will provide some additional materials and trips which we would not have been able to purchase otherwise.
One purchase that we made for the Centre from a local charity shop was a pool table. This was requested by all our learners and it has been put to good use!